CONSULTING MINISTER

Reverend Emily Burr, Minister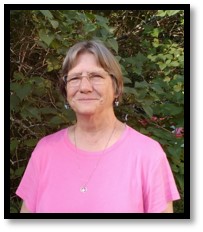 Rev. Burr has been serving UUCF as their Consulting Minister since 2015. Rev. Emily Burr is a native New Englander.  She was born and raised in Brookline, Massachusetts and has been a Unitarian since age twelve.  Emily received a BA degree in Physics, from Vassar College. After being a teacher, mom and chemist for many years, she returned to school in January 1999 to become a Unitarian Universalist minister.  Emily graduated with honors from Andover Newton Theological School in 2004.  She served the Kearsarge UU Fellowship as ½ time minister for four years.  She and her husband, Richard, were Peace Corps Volunteers in South Africa for 3 years. She enjoys gardening, hiking and needlework.  She has two grown children and currently lives in Canterbury, NH with her husband and a cat. She is very excited about serving the Franklin congregation as the 1/4 time minister.
Rev. Emily Burr can be reached via email at RevEmilyBurr@gmail.com or by phone: 603-899-7570.
STAFF
Beth Duhamel, Administrator
Beth joined the Franklin Congregation as Administrator in June of 2019. She can be contacted at administrator@uucfranklin-nh.org.