Our Sunday Program
Most Sundays, after "A Story for All Ages", the children are 'sung out' of the sanctuary as they proceed to their worship space. Here, we open with a sacred circle where we focus, share our thoughts, and honor the many traditions that inspire us. Within our sacred circle we also explore ways to incorporate the 7 UU Principles into our lives.
After sacred circle, we undertake a project or activity. Children are welcome to choose other play activities  or join their parent in the service as needed.
This RE program is designed to meet the various needs of our diverse, multi-age group. To ensure its success we ask that children come prepared to listen respectfully and participate in the group activities.
Our Unitarian Universalist Principles:
(In young people's language)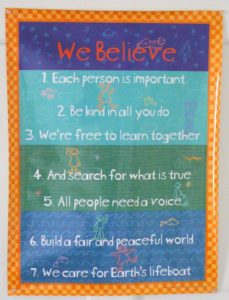 Unitarian Universalism seven principles, shown above, offer numerous paths of study for all ages of UU's.
Our R.E. Philosophy
With music, play, stories, discussion, and various art media, we aim to create an environment where children can share their sense of wonder, gain inspiration, experience the sacred, define and redefine their beliefs. Here children are encouraged to ask questions and explore religious ideas in an open-minded religious community.